Popular Summer in Central Park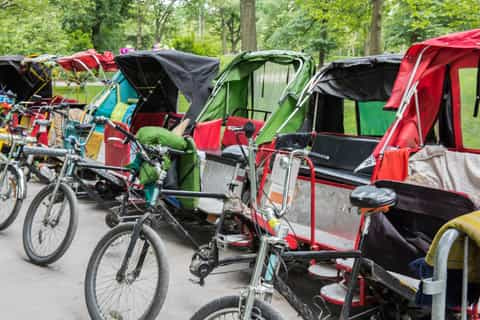 Central Park: Private Pedicab Tour
Duration options: 1 - 2 hours

New York City: All Day Bike Rental and Central Park Picnic
Private group

Valid: 1 day

New York: Central Park Movie Sites Walking Tour
Free cancellation
Change of plans? No problem. Cancel up to 24 hours before your activity starts for a full refund.
Top Attractions in New York City
Things to Do in New York City
What people are saying about Central Park
Great introduction to Central Park and its history
Our driver was very knowledgeable about the history and significance of areas of the park. He pointed out many residences along Central Park West, where various celebrities live, and drove us to many points of interest in the southern portion of the park. "Johnny" had a good sense of humor and took photos of us at various interesting stops. Loved the Bethesda fountain, the Bow Bridge, and the mosaic of "Imagine" at Strawberry Fields.
Fun, Informative View of Movie Sites in Central Park
Gary, our guide, is an actor and also had great knowledge of the movies shot in Central Park. I have always wanted to walk through Central Park and know some of its history and this was an excellent way to do it. We had a beautiful sunny day and I learned some of the stories about several different sites in the Park- Strawberry Fields, The Sheep Pasture.
Victor our guide was amazing, very knowledgable and funny. Loved trip
Victor, our guide, was just amazing. He made us laugh,and told us story of central Park that we had no idea of.. We wished we had more time so we could take the two hour tour. Will do it again in a minute. We felt very safe.
great guide ,personable,knowledgeable,took pictures for us .
we found ourselves very lucky to have taken the pedicab tour . reason being the # of stops he did to discuss history and landscaping. the guide was very personale and likeable and spoke spanish which was great.
Riding through Central Park was fun and relaxing at the same time.
The pedicab drivers were very nice with interesting information about the park. Our time in NYC is always filled with lots of walking so it was very nice to ride through the park.